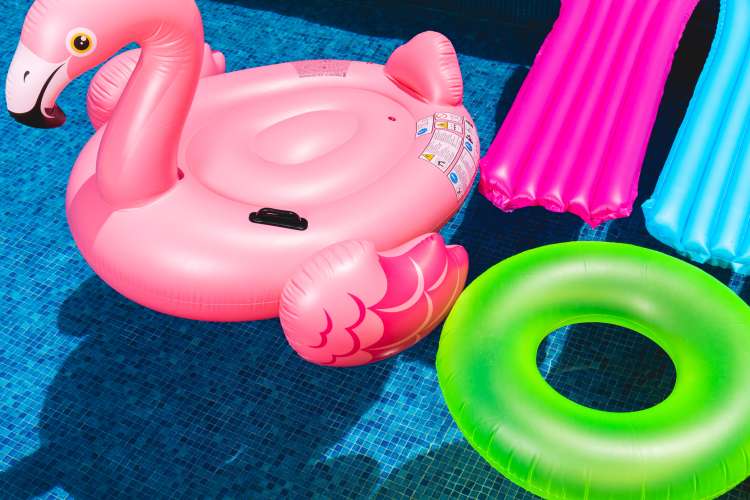 If you're looking for a fun-filled activity you can do as a family in the Houston area, look no further. For there are several waterparks to help you do exactly that.
Believe it or not, there are nine waterparks in the Houston area and over seventy in the state of Texas. With that many a number, you can easily find a fun waterpark or aquatics center, no matter where you live or where you are going.
The summer season is the best time to put on those swimsuits and head to a waterpark with your family in tow.
Wondering where to go first?
Here are a few waterparks you can start with!
Typhoon Texas Waterpark
Location: 555 Katy Fort Bend Road, Katy, Texas 77494
Type: outdoor & indoor water park
Known for its grand May 28, 2016 opening, this waterpark offers a wide range of family-friendly features at very affordable rates. There are not only slide racers but also slide boarding, a wave pool, and lots of slides. There is also a special kids aqua area meant for young children.
Splashway Waterpark
Location: 5211 Main Street, Sheridan, Texas 77475
Type: oudoor water park
This family-friendly waterpark has several features to keep the entire family entertained, from wave pools, lazy rivers, and zip lines, to tube and speed slides and kiddies areas. What sets this waterpark apart is its opportunities for many fun activities like fishing, camping, arts and crafts, Christian music, S'mores, and others. You can bring in your own food, beverages, and coolers and are welcome to use the free parking, life jacket, and inner tube.
Schlitterbahn Galveston
Location: 2109 Lockheed Street, Galveston, Texas 77554
Type: outdoor & indoor water park
This waterpark has a "something for everyone" motto and stays true to it. With a heated pool, a lazy river, a swim-up bar, boogie boarding, zip lines, and kids' areas, not to mention a wide range of slides, there's nothing that this waterpark doesn't offer. Those looking for free parking, free inner tubes, and picnic opportunities will find themselves very lucky here.
Wet'n'Wild Splashtown
Location: 21300 Interstate 45 N, Spring, Texas 77373
Type: outdoor & indoor water park
Designed keeping a family experience in mind, Wet'n'Wild Splashtown offers precisely that. This waterpark's family rides are suitable for all kinds of families. In contrast, the kids' rides are specially made to suit children of all ages. Thrill rides are meant for the older and perhaps more daring family members.
The park includes:
Racing slides.

Tubes.

A wave pool.

A lazy river.

A three-story treehouse with water structures for small children.

A special children's activity pool.
Pirate's Bay
Location: 5300 East Road, Baytown, Texas 77520
Type: outdoor water park
Like its name, this waterpark has enough to have you and your kids returning for years. Suppose the lazy river, mat racers, body slides, wave pool, tube slides, or drop slides. The children's play structure wasn't enough. In that case, Pirate's Bay has other fun features like water guns, large dumping buckets, and spray nozzles, among others. What really sets this place apart, however, is that it offers swimming lessons for the novice.
Palm Beach at Moody Gardens
Location: One Hope Blvd., Galveston, Texas 77554
Type: outdoor water park
Known for its free services and wide range of fun events, Palm Beach has many attractions, including a splash pad, a wave pool, a lazy river, and two tower slides. It also has a water playground area for those looking to play in the water.
There are several complimentary amenities such as lounge and beach chairs, umbrellas, lounge chairs, and a volleyball court, as well as affordable rent-able amenities such as bamboo lounge chairs and beach cabanas. Some of the unique attractions of this place include fun-filled family events such as bands on the sand and dive-in movies.
Woodlands Resort
Loaction: 2301 N Millbend Dr, The Woodlands, TX 77380, USA
Type: outdoor water park
If you're looking for an experience that's a part waterpark, part resort, you should head over to Woodlands. The alternative is ideal for families looking for a little break from their daily schedule and those looking for a waterpark to visit. They have recently added a mini-waterpark to the resort. The Woodlands Resort has five swimming pools, three water slides, a hot tub, a splash pad, a lounge pool, and a lazy river, among others.
Noah's Ark
Location: 10570 Westpark Drive, Houston, Texas 77042
Type: indoor water park
Though it is not really a waterpark, the Noah's Ark Pool is a great water pool, especially for children of all ages. Not only do they have features made for young children, but they also have dual diving boards and slides explicitly designed to keep older children in mind.
Bellaire Town Square Family Aquatic Center
Location: 7001 5th Street, Bellaire, Texas 77401
Type: outdoor water park
While this is not a waterpark in the strictest sense of the word, it is still a fun place to visit. The aquatic center has several features that make it ideal for a family outing, from diving well to a lap pool and leisure pool. 
The leisure pool has additional features such as:
a giant slide

small dumping structures

a dumping bucket

a small frog slide, among others
All of those features make it a massive attraction for children.
Other Waterparks and Aquatic Centers in Texas:
Adventure Island Waterpark
Location: 6450 Cross Creek Bend Lane, Fulshear, Texas 77441 (near Galveston)
Bahama Beach Waterpark
Location: 1895 Campfire Circle, Dallas, Texas 75232
Bedford Splash
Location: 2801 Forest Ridge Drive, Bedford, Texas 76021 (near Dallas)
Blue Bell Aquatic Center
Location: 1800 E Tom Green St, Brenham, Texas 77833
*Right across from the Blue Bell Factory
Boomtown Bay Family Aquatic Center
Location: 104 Tommy Thorton Way, Burkburnett, Texas 76354 (near Fort Worth)
Bryan Aquatic Center
Location: 3100 Oak Ridge Drive, Bryan, Texas 77802 (near College Station)
Castaway Cove Waterpark
Location: 1000 Central Fwy E, Wichita Falls, Texas 76301 (near Forth Worth)
Cecil Backyard Waterpark
Location: 703 Ullrich Lane, Crosby, Texas 77532 (near Houston)
Cimarron Family Aquatic Center
Location: 201 Red River Trail, Irving, Texas 75063 (near Forth Worth)
Colony City Aquatic Park
Location: 5580 N Colony Blvd, The Colony Texas 75056 (near Austin)
Conroe Aquatic Center
Location: 1205 Callahan Ave, Conroe, Texas 77301
Farmers Branch Aquatics Center
Location: 14032 Heartside Pl, Farmers Branch, Texas 75234 (near Dallas)
First Colony Aquatic Center
Location: 4350 Austin Pkwy, Sugar Land, Texas 77479
Great Wolf Lodge – Indoor Waterpark Resort
Location: 100 Great Wolf Drive, Grapevine, Texas 76051 (near Dallas)
Hawaiian Falls The Colony
Location: 4400 Paige Road, The Colony, Texas 75056 (near Dallas)
Hawaiian Falls Garland
Location: 4550 N Garland Avenue, Garland, Texas 75040 (near Dallas)
Hawaiian Falls Mansfield
Location: 490 Heritage Pkwy, Mansfield, Texas 76063 (near Forth Worth)
Hawaiian Falls Pflugerville Waterpark
Location: 185oo TX-130 Service Road, Pflygerville, Texas 78660 (near Austin)
Hawaiian Falls Waco
Location: 900 Lake Shore Drive, Waco, Texas 76708
Hawaiian Falls White Settlement
Location: 8905 Clifford St, White Settlement, Texas 76108 (near Dallas)
Hawaiian Alley Waterpark
Location: 702 E Port Ave, Corpus Christi, Texas 78401
Hdrous Wake Park (wake boarding)
580 N Cedar Drive, Allen, Texas 75002 (near Dallas)
Holiday Inn Club Vacations The Villages Resort
Location: 18270 Singing Wood Lane, Flint, Texas 75762 (near Austin)
Huntsville Aquatic Center
Location: 912 Avenue N, Huntsville, Texas 77320
Lions Junction Water Park
Location: 5000 S 5th Street, Temple, Texas 76501 (near Austin)
Lone Star Jellystone
Location: 34843 Betka Road, Waller, Texas 77484 (near Houston)
Lubbock Water Rampage
Location: 6602 Marsha Sharm Fwy, Lubbock, Texas 79407
Malibu Water Park
Location: 2015 Grace Lane, Highlands, Texas 77562 (near Houston)
NRH2O Family Water Park
Location: 9001 Boulevard 26, North Richland Hills, Texas 76180 (near Fort Worth)
Old Settler's Aquatic Center
Location: 1101 E Louisiana St., McKinney, Texas 75069 (near Plano)
Pampa H20 Aquatic Center
Location: 1400 N Sumner St, Pampa, Texas 79065
Paradise Waterpark
Location: 4675 US-96, Silsbee, Texas 77656 (near Beaumont)
Pharr Aquatic Center
Location: 1000 S Fir Street, Pharr, Texas, 78588 (near McAllen)
Plano Aquatic Center
Location: 2301 Westside Dr, Plano, Texas 75075 (near Dallas)
Rob Fleming Aquatic Center
Location: 6535 Creekside Forest Drive, The Woodlands, Texas 77389
Rowlett Wet Zone
Location: 5304 Main Street, Rowlett, Texas 75088 (near Dallas)
Russ McEwen Aquatic Center
Location: 911 Golf Course Road, Big Spring, Texas 79720 (near Midland)
Schlitterbahn – Corpus Christi
Location: 14353 Commodore Drive, Corpus Christi, Texas 78418
Schlitterbahn – New Braunfels
Location: 400 N. Liberty Ave., New Braunfels, Texas 78130
Schlitterbahn – South Padre Island
Location: 100 Padre Blvd., South Padre Island, Texas 78597
Seaworld's Aquatica
Location: 10500 Sea World Dr, San Antonio, Texas 78251
Sherwood Park Aquatic Center
Location: 4520 No Dixie Blvd, Odessa, Texas 79761 (near Lubbock)
Shore Club Volente Beach Waterpark
Location: 16107 FM 2769, Leander, Texas 78641 (near Austin)
Six Flags Hurricane Harbor
Location: 1800 E Lamar Blvd, Arlington, Texas 76006
Splash Amarillo
Location: 1415 Sunrise Dr, Amarillo, Texas 79104
Splash Kingdom
Location: 401 N University Drive, Nacogdoches, Texas 75961
Splash Kingdom Waterpark
Location: 18814 I-20, Canton, Texas 75103 (near Dallas)
Splash Kingdom Waterpark
Location: 1001 Cinema Drive, Weatherford, Texas 76087 (near Waco)
Splash Station
Location: 1010 Hillsboro St, Cleburne, Texas 76033 (near Fort Worth)
Splashville
Location: 850 S Graham Ave, Stephenville, Texas 76401 (near Fort Worth)
Splashicana Water Park
Location: 2951 Ridgeway Drive, Corsicana, Texas 75109 (near Dallas)
Splashtown San Antonio
Location: 3600 North IH 35, San Antonio, Texas 78219
Strawberry Park
Location: 1104 Parkside Drive, Pasadena, Texas 77504
Summer Fun Water Park
Location: 1410 Waco Road, Belton, Texas 76513 (near Kileen)
Sun Valley Aquatics Center
Location: 801 S Valley Pkway, Lewisville, Texas 75067 (near Dallas)
Volente Beach Waterpark
Location: 16107 Farm to Market Road 2769, Leander, Texas 78641 (near Austin)
Waterpark at the Villages
Location: 18270 Singing Wood Lane, Flint, Texas 75762 (near Tyler)
Water Works Park
Location: 2400 Long Road, Denton, Texas 76208 (near Dallas)
West Irving Aquatic Center
Location: 3701 Conflans Road, Irving, Texas 75061 (near Dallas)
Wet-n-Wild Waterworld
Location: 8804 S Desert Blvd, Anthony, Texas 79821 (near El Paso)
Wyndham El Paso Airport Hotel and Water Park
Location: 2027 Airway Blvd, El Paso, Texas 79925