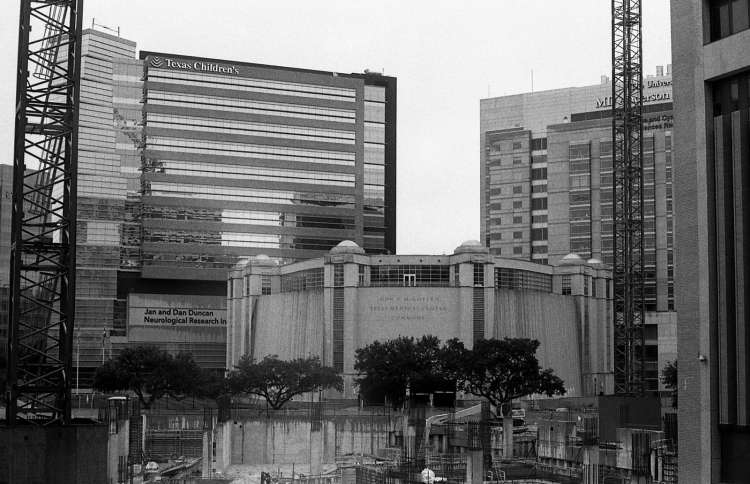 Families with children in the Houston, Texas, area are fortunate to live near Texas Children's Hospital. It is the largest pediatric hospital in the United States. It consistently ranks as one of the best in the country. Located within the Texas Medical Center at 6621 Fannin Street in Houston, the nonprofit children's hospital is open 24 hours a day, year-round, serving children from birth through age 19.
History
Texas Children's Hospital has been standing since 1951 when it opened as a three-story building with just over 100 beds. Right away, the hospital began shaking things up in the pediatric world, hiring Texas' first (and only, at that time) female pediatric surgeon, Dr. Benjy Brooks. In 1954, it established an unprecedented policy for the time, which allowed at least one parent to remain with a child during a hospital stay.
The hospital was first recognized as a leader in pediatric care in 1964 when it performed a successful procedure to separate twins Karen and Kimberly Webber, who were joined at the chest. In that same decade, the hospital helped establish the Texas Heart Institute, which is still a leader in researching and treating adult and pediatric cardiovascular diseases.
In the 1970s, the hospital again entered the spotlight as it treated David Vetter, a young boy born with Severe Combined Immune Deficiency (SCID), for which there was no cure or long-term treatment. Little David soon became affectionately known as "The Bubble Boy," as he was placed in a specially designed, germ-free bubble. In this bubble, he played, ate, slept, and even attended school for 12 years until his death.
Texas Children's Hospital continued to expand and break barriers in pediatric medicine and care through the following years. It now boasts more than 600 beds and receives patients worldwide.
Emergency Care
The Texas Children's Emergency Center, the largest of its kind in the area, treats pediatric patients with medical and surgical emergencies. In addition to the standard emergency services available, the center houses shock trauma resuscitation beds, a dedicated sexual assault exam room, and a specialized isolation room.
Emergency services are offered on the first floor of the hospital's main campus at 6621 Fannin Street and the second floor of its West Campus, located at I-10 and Barker Cypress. In addition to medical and surgical staff, the center has on-site child life specialists, family advocates, social workers, and interpreter services.
Services and Specialties
Texas Children's Hospital has been well-known for decades as a specialty hospital for pediatric cardiology and heart surgery. Doctors here also specialize in pediatric pulmonology, cancer, nephrology, neurology and neurosurgery, gastroenterology and GI surgery, diabetes and endocrinology, urology, neonatology, and orthopedics. For most of these specialties, it is consistently recognized as being among the top 10 hospitals in the U.S.
Texas Children's Heart Center
The hospital's pediatric cardiologists and surgeons are world-renowned leaders in pediatric cardiology, congenital heart surgery, and cardiovascular anesthesiology. They are all on the faculty at the affiliated Baylor College of Medicine. Each year, these doctors see more than 17,000 patients. They perform upwards of 800 surgeries in the Texas Children's Heart Center, which places a particular focus on aortic valve stenosis, atrial septal defect, coarctation of the aorta, hypoplastic left-heart syndrome, valvar pulmonary stenosis, single ventricle anomalies, tetralogy of Fallot, total anomalous pulmonary venous return, transposition of the great arteries, and vascular rings of the aorta.
The Texas Children's Heart Center was the first accredited Pediatric Heart Failure Institute. It was honored to recognize its successful approach to treating heart failure in children. For pediatric patients suffering from cardiac issues and heart failure, the center provides arrhythmia surveillance, cardiovascular genetic testing, congenital heart surgery, echocardiography, electrophysiology, and pacemaker care, treatment of heart failure and cardiomyopathies, minimally invasive surgical procedures, pediatric cardiac catheterization, pediatric cardiovascular anesthesiology, and heart transplantation. It opened in 1984, and the Texas Children's Heart Center has performed more than 280 heart transplants in children, marking it as one of the country's largest and most successful programs.
Texas Children's Cancer and Hematology Centers
Texas Children's Hospital is also home to the most significant state-of-the-art pediatric cancer and hematology center in the United States. They treat children and adolescents (up to age 21) with cancer and blood disorders, including even the rarest conditions. Texas Children's Cancer and Hematology Centers' primary location is within the Texas Children's Hospital. However, clinic sites are also available in Katy, Texas; McAllen, Texas; and The Woodland, Texas. Together, these sites boast over 800 staff and a full range of pediatric subspecialty care available 24 hours daily. The center prides itself on treating the physical aspects of these devastating childhood illnesses and their emotional effects.
In addition to treating patients, the cancer arm of Texas Children's Hospital is at the forefront of childhood cancer research, with more than 350 researchers working across 42 laboratories. With this support, it conducts more clinical trials than any other pediatric cancer center in the country. Due to that, they achieved national recognition as a leader in developing novel approaches to treating pediatric cancer, including personalized therapies.
Pulmonary Medicine
In the 1960s, Texas Children's Hospital became the first in the country to treat children suffering from respiratory failure via home mechanical ventilation. That allowed them to receive care in their homes rather than spend years in the hospital. Today, the hospital continues to be a leader in pediatric pulmonary medicine, treating various respiratory disorders such as pulmonary hypertension, cystic fibrosis, and asthma, among others. Its team specializes in diagnosing and treating chronic, complex, and rare pulmonary diseases in children and adolescents.
The Texas Children's Asthma Center treats many children with asthma that is difficult to control. Doctors here develop an individualized asthma management plan that includes drug therapy as well as control of environmental factors. The center also prides itself on educating its patients and their families to help them become asthma self-managers. It also offers evaluation and care in its Life-Threatening Asthma Clinic Program for those with severe asthma.
The hospital's Cystic Fibrosis Care Center offers young patients and their families comprehensive clinical services for treating and caring for cystic fibrosis and its related issues. The center also accepts volunteers to participate in clinical trials to test promising treatments, offering the chance to benefit from new treatments and help advance the scientific understanding of this condition.